So yeah… BMR… that has turned into a giant pain in the butt. And it seems for a change Google has decided to not only de-index the network of sites linking out, but to issue warnings to people who used BMR on webmaster tools. When I went and looked at my dashboard here is what I saw: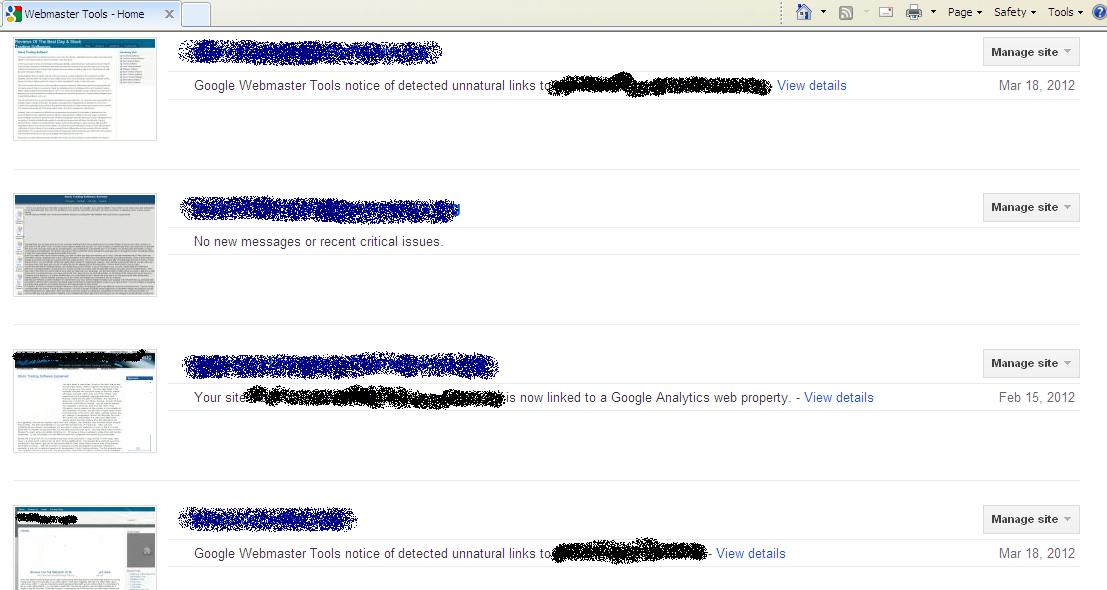 3 of my 10 sites in this dashboard were hit by a warning of unnatural links. Bummer. What's notable is that that my biggest site, while it got hit HARD for traffic at the same time as BMR went down, doesn't have a warning. The site is old and has over 100,000 backlinks so I guess it doesn't look as unnatural. Anyway I'm cutting and running from BMR, which is painful since I've invested hundreds of dollars of membership fees and thousands of dollars worth of content on the site.
Now to combat these unnatural links BMR, in their usual decent guy ways (hard to hate them), are making it easy for people to download their content (3123 live posts for me) and remove their content from the BMR sites… and that's exactly what I'm doing. So ok I've downloaded my content (for use at a later date) and removed my links. BMR says it will take them a week to fully remove the links, but I'm betting it will be a lot faster than that. Anyway I'd give it a couple of days before moving onto the next step.
…a couple of days later
Ok now we're going to ask Google to remove the unnatural links warning from our site, which will hopefully help our rankings. The first thing your going to want to do is go and make your sites are looking very legit. I'd remove pretty much any advertising that's on the site, especially above the fold stuff and anything that might look like you're selling links yourself. Google will have someone look at your site, so impress them with a nice theme and whatnot.
Go back to your webmaster tools account and click the "View Details" button beside your unnatural links notice. Then click "submit your site for reconsideration" and you'll be asked to write a message to google explaining what went on. I suggest a mix of both admitting you did something wrong, and shifting full blame to someone else. Something like "I use the services of an SEO company and when I inquired if they were utilizing any methods that violated google's terms of service they said they would review all my links and do their best to remove any links that are in violation. This work has been completed, please review my site and advise me if my site is now within google's TOS and can have the unnatural links warning removed."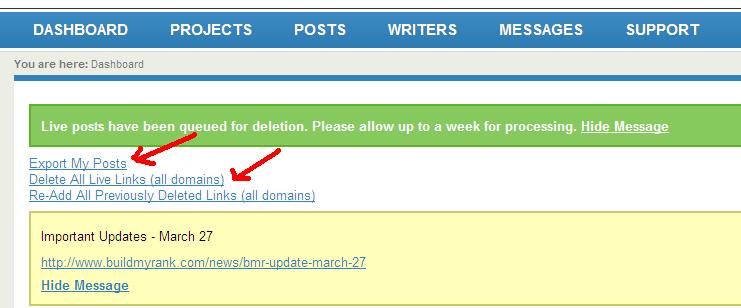 If all this hardship has taught us anything it's that we should be listening to Griz circa like 2006 and be building our own sites to support our winning sites, not relying on junky networks like LV, BS, ALN, BMR, or whatever the flavor of the month is out there no matter how quick and dirty a solution it seems like.
That's about all you can do. I've got a few unanswered questions myself though…
– My site that didn't have a warning still got a big slap, so I'm going to submit the site for reconsideration and see what google says.
– I have a lot of sites that aren't in google webmaster tools that would probably have the same warning attached, so I'm going to leave one of my smaller sites and not request consideration to see if that warning goes away now that the links have been removed.
If you have any questions of your own please leave a comment and I'll do my best to answer or if I can't I'll inquire or test it out. Best of luck in the cruel cruel MMO world!